You can go back at any time or cancel the entry.

After entering all the information, click "Add," and your user will receive an invitation email. This process is described here
The user will have the status
"Pending"
until he accepts the invitation:

If the user takes some time to respond, you can send the email invitation again by clicking on the envelope icon.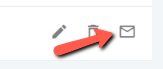 Once the user accepts the invitation and connects to Conpulse, the status will change to "Active":


You will have to repeat the same operation for each user you want to create. You (as
the
admin) will be able to delete or modify the registered users
as long as the user
is not asso
ciated with any client or project.
In the latter case, you
will only be able to disable it.