Where do I find my payments?
In order to see the payments, click on
"Payments Made."
Here you have a list of all payments made by your company:

Click on any payment will show its receipt: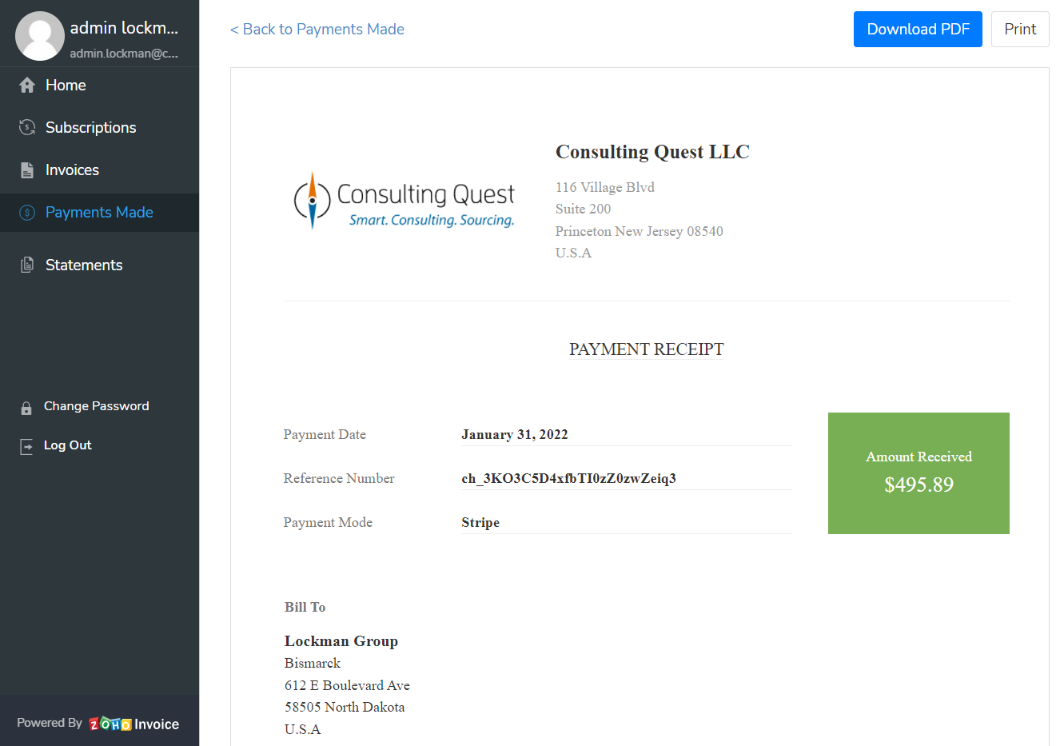 There you can download the pdf of the receipt or print it.
Related Articles

What is the Customer Portal?

The Customer Portal is a self-service portal that you can use to manage your subscriptions, pay for invoices, update your information, and much more. The customer portal is a fully secure environment for subscriptions and payments. To access it, you ...

How to activate the customer portal ?

Once you activate your subscription, you will receive an email to set up your password and activate the customer portal: Once you click "Accept Invitation," you will go to the page to define your password: Choose your password, and ...

How do I send a survey?

Once the project is finished, you should send the survey to find how your company's performance on that particular project. To do that, go to "Projects" and click on the "Send Survey" button: A pop-up message will appear asking for your ...

How do I view the projects for a specific client?

To view all projects associated with a client, you have two options: 1) Go to the Client's tab and click the name of the desired Client: 2) Click on the "View Projects button on the right side of the client: Either option will redirect ...

How to start a trial on Conpulse?

The trial period of Conpulse allows you to test the tool with almost real data, where you can see how the platform works and see all the reports with valuable data. Some features are only available when you subscribe to Conpulse Add new users from ...